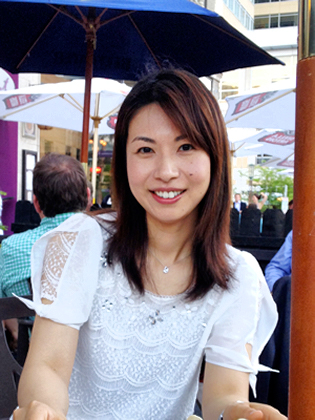 In the field of developmental support nursing at the University of Tsukuba, we are engaged in various researches to explore nursing that supports the development of children and their families. We aim to build developmental support nursing science while always keeping in mind the return of research products to children, families, and pediatric medical practice. Our laboratory has three main pillars: family care in the community, pediatric and family care in the outpatient department, and pediatric and family care in the hospital.
Rie Wakimizu, PhD, RN
The first pillar
Family care in the community
Increasing the NICU lifesaving rate and the medical device revolution are increasing the number of children moving home. Mothers have a strong sense of remorse, and despite the considerable burden of care, they often take care of everything and become physically and mentally exhausted. It affects not only mothers but also fathers' stress and work-life balance, siblings' tics and behavior problems, and the entire family. Therefore, in our laboratory, we are practicing FEP (Family Empowerment Program) aiming at family empowerment mainly for the main caregivers from the time of moving to home. This is a total of four programs centered on reducing the burden of care and promoting the use of social resources. Every time I see a family that adapts flexibly, I am impressed as a management team.
The second pillar
Pediatric and family care in the outpatient department
Nurses and paramedical staff experience the difficulties of family care. We have developed a training textbook based on the underlying medical conflict and the fact-finding survey (2019) on abuse, violence, harassment, etc. received in the past year, and use it in web training and academic conference WS. We are also exploring various initiatives for preparing for infants undergoing outpatient medical treatment and for transition support for children with chronic diseases and their families. We are also conducting research on HPV vaccination, research on doctor-patient relationships in pediatric outpatient departments, research on the actual use of pediatric primary care for patients with severely ill children at home, and research on actual conditions regarding online consultation.
The third pillar
Pediatric and family care in the hospital
It is difficult for long-term care patients such as childhood cancer to return to school smoothly and resume learning after discharge. In the background, there is a problem of follow-up system (unfamiliarity, lack of cooperation) that cannot keep up with the learning pace of the previous school due to medical treatment, and it is necessary to establish a support system from the initial stage of hospitalization. In addition, long-term hospitalization has a great impact not only on the patient but also on the morphology and function of the family. How to deal with the mental and physical exhaustion and work-life balance problems associated with visits to caregivers and treatment decisions, and the stress and loneliness of siblings is also a major issue.Through various nursing research and nursing practices, I would like to contribute widely to important children who will bear the future, their families, and society. We hope that you will take a look at our efforts on this website.

PROFILE
Childhood illnesses, which are often congenital, are a serious problem not only for the individual but also for the family. In particular, the hardships of families with pediatric patients who cannot be expected to be completely cured and are concerned about recurrence or deterioration are beyond speculation. You can get support from doctors and nurses while the patient is in the hospital, but what should you do after discharge or before the diagnosis is made? We aim to realize pediatric family care backed by field research and translational research.
Generally, the target of nursing is mainly patients who are being treated or treated at the hospital or at home. However, if the patient is a child, self-care has not been established, and in many cases the family will accompany them for nearly 24 hours or visit them every night until the lights are turned off. In some cases, young siblings may eat supper alone at home or be at their grandparents' home for the time being. Unfortunately, social support for families with such circumstances is inadequate. Moreover, the circumstances surrounding children with chronic illnesses and disabilities and their families are extremely special and diverse. We aim to develop and realize evidence-based pediatric family care models by qualitatively and quantitatively investigating the living conditions of pediatric patients' families.
For example, what about the circumstances of a family with a child with a developmental disability? We examined 350 cases of outpatients with children with disabilities who were diagnosed with "developmental disabilities". The average time it took for a mother to "know" that her child might have a developmental disability was 26.1 months after birth. More than 70% of mothers have been aware of problems with their children since their children were under 3 years old (about 20% were under 1 year old). The mother's conflict begins there. In many cases, they cannot share their concerns with their husbands and relatives, and feel guilty about having a child with a disability. In the same survey, the first outpatient consultation was on average 45.9 months old, and the first diagnosis was 67.7 months old. There is a time difference of 41.6 months from the first notice to the diagnosis. Meanwhile, the mother continues to struggle and struggle alone. Considering the suffering of several years, I advocate that it is ideal to grasp the condition of the parent and child before the diagnosis is confirmed, and to casually walk up and start parent-child support and family support.As certified facilitators, we actually held positive parenting programs in Tsukuba, Mito, Kamisu, Shinjuku-ku, Tokyo, etc., but most of them were requested by mothers who are suffering from relationships with their children.
The severity increases in families with severely ill children. Especially in the case of congenital severely ill children, the mother's guilt is very strong. Relationships with husbands and their relatives may have deteriorated. Siblings of similar age may have been mentally damaged. It is necessary not only to help each other within the family, but also to support the family from the society as a unit. For 10 years, we have conducted many surveys on families of severely ill children at home with the cooperation of patient organizations, nursing centers, outpatient departments of university hospitals, and the disability welfare section of the government. Mothers who awaken many times during the night care and say, "I have never slept until morning," fathers who stopped drinking because they had to drive a car in an emergency, siblings who could not be spoiled, etc. Often, unspeakable true stories and feelings are revealed.
Under such circumstances, what I am particularly conscious of is assessing the "self-care function" of the target family. Based on this, it is about taking control of "family empowerment"(state or ability of the family to control their own lives and collaborate with the family, service system, society, etc. toward the care of children with health problems), and seeking clues for intervention as needed. Understanding the process of family "self-care" and "empowerment" makes it easier to consider and provide appropriate support. In the future, we must enhance our social support system, such as respite to parents (an alternative to temporary care to reduce mental fatigue of parents) and a psycho-educational approach to siblings.
I like children very much. It is often said that children are innocent, and when they talk to or play with them, it becomes like a clear sky with no clouds in mind and body. Since I was in the 5th and 6th grades of elementary school, I have longed for kindergarten teachers and nursery teachers. I learned about the existence of a university for the first time in my first year of high school, and at the recommendation of my teacher, I decided to choose a science course and take the university entrance exam. Although I passed the medical college exam, I entered the University of Tokyo and majored in health science and nursing. There was a way to go to the government and private companies, but I decided to go to the pediatric family care research and education path because I loved children from a young age and had nursing experience in the pediatric ward. The graduate school in charge has been training family support specialist nurses since 2014. As an abuse prevention project, we also regularly hold a positive parenting program for parents who are suffering from childcare as mentioned above. By being deeply involved in the target family, there will be further expansion and development such as explicit knowledge of tacit knowledge and connections between professionals. We would like to further expand our research projects centered on our families.
CV
Educational background
| | |
| --- | --- |
| Apr. 1997 | Faculty of Liberal Arts, Natural Sciences II, University of Tokyo, Tokyo, JAPAN |
| Mar. 2001 | Faculty of Medicine, Department of Health Sciences and Nursing, University of Tokyo, Tokyo, JAPAN |
| Mar. 2004 | Master of Nursing and Health Science, University of Tokyo, Tokyo, JAPAN |
| Mar. 2007 | Doctor of Nursing and Health Science, University of Tokyo, Tokyo, JAPAN |
Work history
Apr. 2002 - Mar. 2003
Pediatric nurse of Toranomon Hospital, Tokyo, JAPAN
Mar. 2004 - Jun. 2006
Nurse of Shinagawa Nursery school, Tokyo, JAPAN
Apr. 2007 - Nov. 2007
Pediatric nurse of Tsukuba University Hospital, Ibaraki, JAPAN
Dec. 2007 - Nov. 2012
Assistant professor, Pediatric Health Nursing, Graduate School of Comprehensive Human Sciences
University of Tsukuba, Ibaraki, JAPAN
Dec. 2012 - Present
Associate professor, Child Health Care and Nursing / Child Health and Development Nursing, Faculty of Medicine University of Tsukuba, Ibaraki, JAPAN